A lot of things are changing in the hospitality industry, but one fact that has and will remain steadfast is the essential role that housekeeping plays in the running of a successful property. With the cleaning, maintenance, and preparation of rooms as significant contributors to guest satisfaction, it's important to keep the management of all these moving parts as organized and seamless as possible.
An essential component of any property management system is a housekeeping report. Providing details on room status, room notes, and current guests, this report is crucial for communicating housekeeping information at a property with numerous rooms and employees.
The housekeeping report included in the WebRezPro system offers real-time information, interactive capabilities and multiple formats to suit your property's needs.
Real-Time Information
All relevant housekeeping information is organized in a clean, user-friendly format in the WebRezPro housekeeping report.
Every unit is displayed with entries signaling the current room status, occupancy, zone and any attached notes or maintenance alarms. The report also shows guest information for anyone arriving, departing or staying through, for a given unit.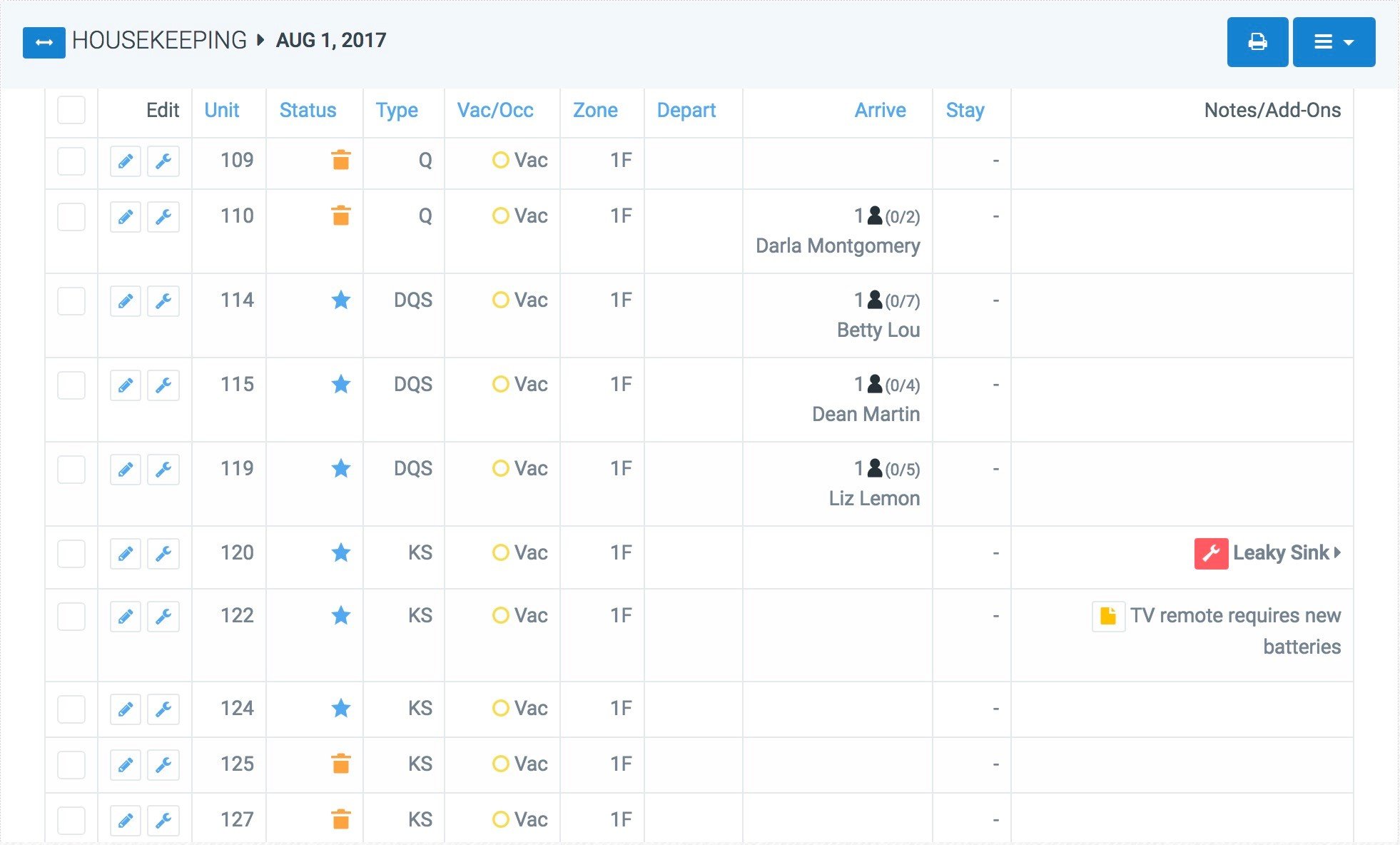 Interactive Capabilities
Not only does the housekeeping report provide up-to-the-minute information about individual units, but its interactivity also allows employees to make updates directly from the report. Using this report employees can:
Change List Order >> Units can be listed by number, status, type, occupancy, departing guests, arriving guests or guests staying through, simply by clicking on the appropriate header.
Change Room Status >> The status of a room can be changed by clicking on the edit icon for the appropriate unit. The available statuses include 'dirty,' 'in service,' 'clean,' 'inspected,' and 'privacy.'
Add Notes and Alarms >> An employee can add a note to a unit by clicking the edit icon. There are options to add a note that will remain only for the selected date or a permanent note which will remain until turned off. Maintenance alarms can be added by clicking the maintenance icon for a particular unit. The status of an alarm can be changed from 'active' to 'work in progress' to 'work completed,' as necessary.
Search by Keyword >> A search bar at the top of the report can be used to search for key words. Using this feature will pull up only reservations that match the search criteria.
Assign and Edit Zones >> Zones are used to group units together for housekeeping purposes. The Edit Zone function is used to name zones and assign housekeepers to them. Units can be designated to different zones using the Bulk Actions feature.
Make Bulk Edits >> By selecting the appropriate units, and using the Bulk Actions menu at the top of the form, employees can change the status or zone of multiple units at a time.
Tile View Format
While the list-style format of the housekeeping report is ideal for managers and front-desk staff to get an understanding of the property-wide housekeeping situation, it may be less optimal for housekeepers themselves (who are more interested in individual units at a time and may be using mobile devices). That is why WebRezPro has introduced a second option for their housekeeping report that allows the information to be viewed in a tile format.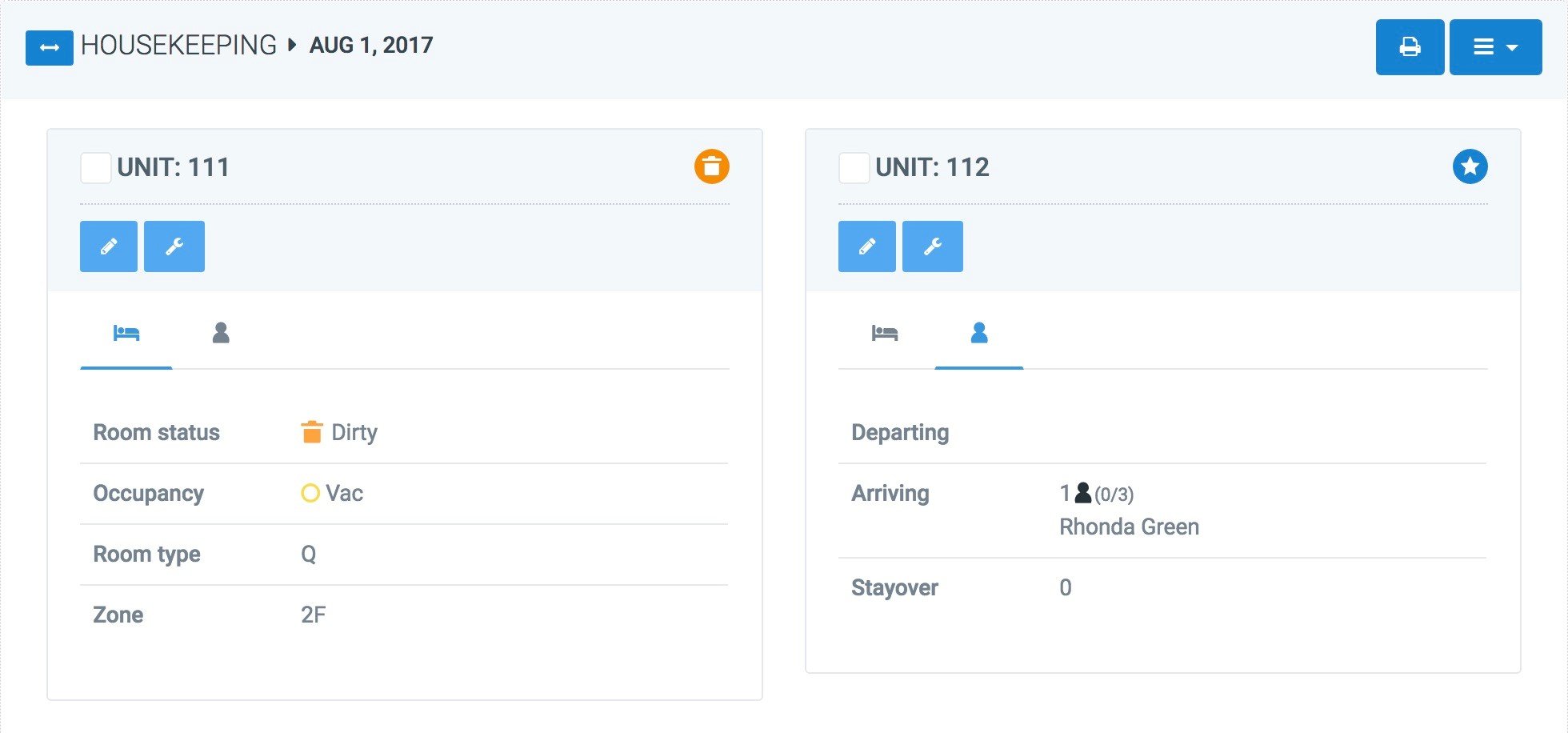 The tile view includes all the same data and functionality of the original report but is arranged in a format that is more user-friendly for housekeepers updating information on a mobile device.

The importance of a good housekeeping report cannot be understated. Every property should have a system that allows relevant information about room status and occupancy to be updated quickly and accurately to make communication and task delegation as seamless as possible.
The features of the housekeeping report that have been described here are available in WebRezPro version 10.5.27. If you are currently using an earlier version of WebRezPro, please contact us for your free upgrade.