Optimized for mobile devices, WebRezPro works seamlessly on iPads and other tablets so you can take the "front desk" with you wherever you go — for greater convenience, efficiency and guest service.
Built with the latest responsive Web design technology, the WebRezPro user interface automatically adapts to the device accessing it, adjusting layout and activating touch-screen functionality for optimal usability on all Web-enabled mobile devices. There is nothing to download or install to use your mobile PMS; simply log in to WebRezPro from a tablet or smartphone to access both front- and back-office features on the go:
Paperless guest check-in
View and update guest profiles and requests
Check scheduled arrivals and departures
Make and edit reservations
Check availability
Update housekeeping and maintenance reports/requests
View occupancy and performance reports
………………………………..
Electronic Signature Capture
Go paperless with WebRezPro! Our electronic signature capture for mobile guest check-in allows guests to sign check-in receipts or registration cards using a tablet or smartphone, speeding up the check-in process and reducing paper costs. Front desk personnel only need to log in to their WebRezPro PMS with a tablet or smartphone to access this feature.
Faster check-in
Cuts paper and printing costs
Environmentally friendlier
Wows guests
………………………………..
Mobile Booking Engine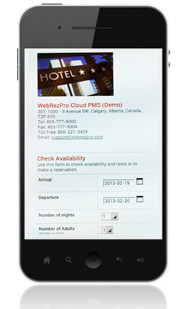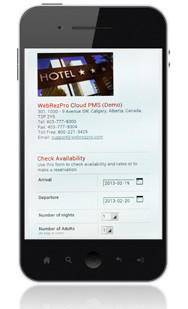 WebRezPro's mobile booking engine allows travelers on the go to make online room reservations on their smartphones quickly and easily. The modern touch-screen user interface has been designed for easy viewing and optimal user friendliness, taking travelers through the room booking process in just a few swift taps.
The mobile booking engine runs seamlessly on multiple platforms, including iPhone, Android and BlackBerry.
Optimized for all mobile devices
Automatically available to mobile users – no download required
Streamlined user experience
Fully integrated with the PMS
………………………………..
Mobile Housekeeping Reports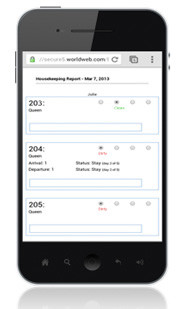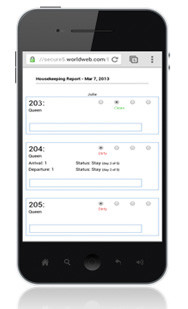 Allow cleaning staff to view and update room cleaning status directly from their mobile devices as they work. This smartphone application improves inter-staff communication and boosts productivity and accountability.
Unique logins for each housekeeper enable you to restrict system access to the housekeeping report only (rooms that need cleaning, rooms that are clean and rooms that have been inspected).
Housekeeper will only see rooms to which he/she is assigned.
Housekeeper can update room status on the go, giving front desk staff up-to-the-minute room information.