In a world where so much is now online—from shopping to social media—it goes without saying that a business' online reputation is important. But just how important is it? In the world of hospitality, exactly how and why do travelers use online hotel reviews? Software Advice, a company that evaluates hotel management systems, recently conducted a survey to answer that very question. This is what they found:
How often do travelers use online hotel reviews?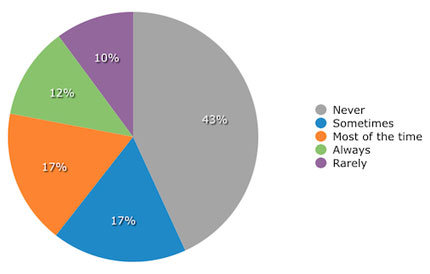 From a pool of approximately 2,500 respondents, a combined 46 percent use online reviews before booking a hotel room "sometimes," "most of the time" or "always." While 43 percent of respondents said they never check online reviews, Generation Y is very likely to (45 percent of 18 – 34 year olds). "Because of their increased use of smartphones and mobile browsing, we found that younger age groups between 18 to 34 use online reviews 'most of the time' or 'always' before booking a room," said Taylor Short, researcher at Software Advice.
Why do travelers use online hotel reviews?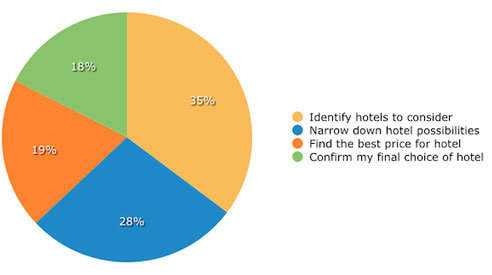 Of travelers who use online reviews, 35 percent use reviews to identify hotels to consider and 28 percent use them to narrow down the possibilities. Fewer use reviews to find the best price (19 percent) or to confirm their final choice of hotel (18 percent).
Where do travelers go for reviews?
When it comes to the most-used hotel review website, Expedia takes the biggest chunk of pie at 38 percent. TripAdvisor follows with 28 percent, then Hotels.com at 25 percent.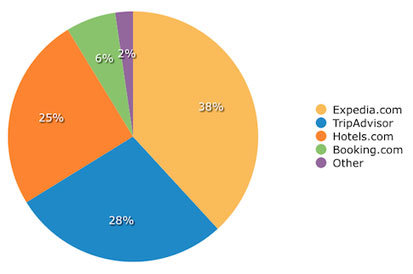 While most respondents use Expedia more than TripAdvisor, they say they trust TripAdvisor just as much as Expedia.
What kind of information are travelers looking for?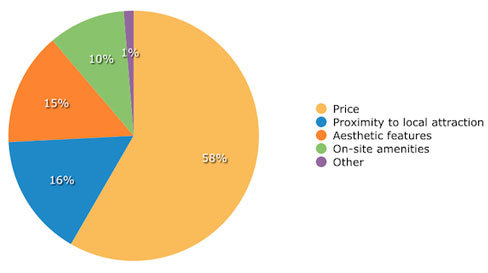 Over half (58 percent) of the surveyed travelers that use reviews say that price is the most important nugget of info they look for in reviews, but, specific guest-submitted comments (rather than star rating, photos or ranking) are what most convinces them to actually book a room: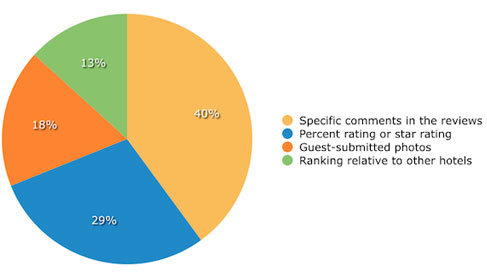 Online Reputation Matters — A Lot
Nearly half of the travelers surveyed by Software Advice frequently use online hotel reviews, mostly to identify hotels to consider and to narrow down their choices. This is strong evidence in support of developing an effective online reputation management strategy to increase the chance of your hotel being picked over the competition.
It's very important to monitor what's being said about your property online so that any negative issues can be remedied and the quality of your reviews improved. Responding to reviews (both good and bad) also shows that you care about what your guests think and that, too, can help make a positive impression on prospective customers.
As the Software Advice research shows, most travelers that use reviews in their hotel search are of the younger age set (18 – 34). These travelers are more actively engaged online and on social media channels (and have increasingly more money to spend on travel) so it makes sense to target those guests to write reviews about your property.
Staying on top of what guests are saying about your property across various online review and social media channels, from TripAdvisor to Twitter, can take a lot of time — something that most lodging operators are short of. This is why more and more properties are looking to automated online reputation management solutions to track and capture guest feedback for improved guest satisfaction and sales with little effort.
WebRezPro Property Management System's new integration with Revinate, the leading online reputation management platform for the hospitality industry, automates the process of encouraging guest feedback on online review sites and social channels. This is our first integration with an online reputation management platform and we are excited to offer this very relevant solution at a time when online reputation management is becoming just as important to hotel operations as revenue management and online distribution.
Click here for the press release about WebRezPro's new integration with Revinate.
Click here for the full Software Advice research report, How Travelers Use Online Hotel Reviews.